Na madrugada de segunda-feira tem início a 79ª edição dos Oscars. Sendo a sua importância subjectiva, a verdade é que quer pelo seu prestígio, quer pela sua notoriedade, um Oscar marca a carreira de quem o ganha.

Este ano a cerimónia está a ser marcada por alguma imprevisibilidade em algumas categorias. Assim sendo, os membros do Take a break decidiram reunir numa tabela as suas previsões sobre os vencedores. No entanto, e como cada um tem sempre as suas preferências, resolvemos não só indicar quem vai ganhar mas sim quem, dentro dos nomeados, deveria ganhar.

Eis a tabela: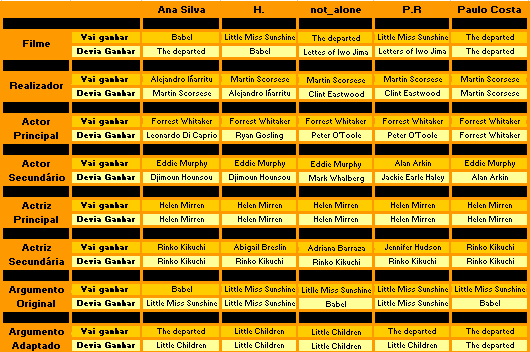 Algumas curiosidades:
- Parece ser universal, este ano a corrida ao Oscar de Melhor Filme está bastante ambígua. Babel, The departed, Little Miss Sunshine: qualquer um pode ganhar
- Grande unanimidade em torno do realizador e do actor principal. Apesar de, em ambas as categorias, apenas o Paulo concordar com o possível vencedor.
- Parece que Helen Mirren conquistou mesmo tudo e todos. Todos indicam que vai ganhar, e todas acham a sua vitória justíssima
- No actor secundário quase todos apontam para vitória de Eddie Murphy, apesar de ninguém concordar com a possível vitória
- Apesar de Rinko Kikuchi ser a preferida de todos, há bastante dispersão aquando de apontar o nome da vencedora. De facto, apenas Cate Blanchett não surge como uma possível vencedora
- No argumento original há alguma divisão entre Little Miss Sunshine e Babel, tanto em termos de previsão, como em termos de preferências
- O mesmo acontece entre The departed e Little Children, apesar de este último ser claramente o preferido
- Caso se concretize as suas previsões, será o Paulo quem sairá mais contente com os vencedores pois em 8 categorias, 6 são coincidentes em termos de previsão e preferência.
E pronto... são estas as nossas previsões. Segunda saberemos quem mais acertou, e quem viu os seus preferidos serem galardoados! Até lá, deixem-nos as vossas previsões!