Melhor montagem
por not_alone
5 | Alice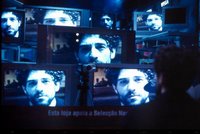 4 | King Kong
3 | The Aviator
2 | Oldboy
1 | Million Dollar Baby
Clint Eastwood não quis mesmo deixar nada ao acaso neste filme, tanto a nível emocional como técnico há um trabalho que requer mestria, e o realizdor consegue-o. O filme flui sem grandes cortes ou incoerências visuais. O trabalho de montagem é apenas uma das muitas qualidades do filme.
Melhor Montagem
por Pedro Romão
5 | Oldboy
4 | The Interpreter
3 | Crash
2 | Million Dollar Baby
1 | The Aviator
Se houve algum prémio justo na última cerimónia dos Óscares, o de Melhor Montagem para Telma Schoomaker foi um deles. De facto, a montagem de Aviador é completamente irrepreensível, não havendo nenhum defeito a apontar. Com uma transição de planos fantástica, onde se destaca por exemplo a cena do tribunal, Telma Schoomaker permite que o filme ganhe uma consistência fanstática que em tudo beneficia o espectador.

Amanhã | Melhor Fotografia